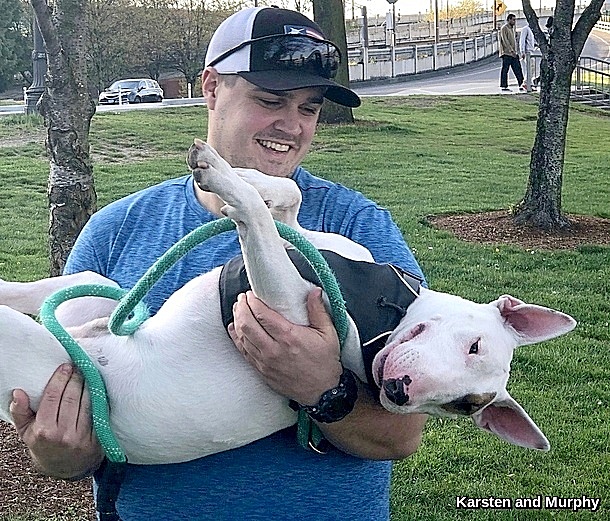 BRT is more than just a university research unit. We are a close-knit family, bound by love and respect for one another.
On August 14, 2018, one of our family members lost his life in a tragic car accident.Some people leave indelible impressions upon our lives,
Karsten David Tindal (1990 – 2018) was such a person.
Those who were fortunate enough to know him personally will long remember Karsten's smile, his easy laughter, his capacity for creativity, and his genuine and deep love for his family.
Those of us who have worked for BRT for decades remember his tottering early steps as he learned how to walk and then—seemingly in an instant—to run. We cheered him through his years of playing sports, looked on with pride as he began coaching, and raised a toast to celebrate his admission to the University of Oregon's Sports Product Management program in Portland. We gratefully accepted his help recording videos and designing promotional brochures for our programs, and we wore with pride the BRT t-shirts he created. Together, we also mourn his passing. Karsten's light shone brightly, and his joy and positive presence enriched so many people's lives. Although his life was far, far too brief, it was lived well and fully. Karsten, you are missed. You are mourned. You are loved.
A Tribute
Karsten David Tindal
May 13, 1990 – August 14, 2018
No parent should have to write the obituary for their child. It is with profound and unremitting grief that we honor the life of Karsten David Tindal, who recently died in a car crash on Dillard Road, a mere half mile from where he grew up. Karsten was born on Mother's Day (May 13) in 1990 to Linda and Gerald Tindal. He was only 28 when he died on Tuesday August 14, 2018, leaving behind both parents and a sister, Sevrina, with whom he had a special relationship: The two were extremely good friends as well as siblings. He also left behind Madison Martinet, his significant other for the past 8 years. And, of course, we can't forget his good buddy Murphy, a Bull Terrier that KT and Madison loved.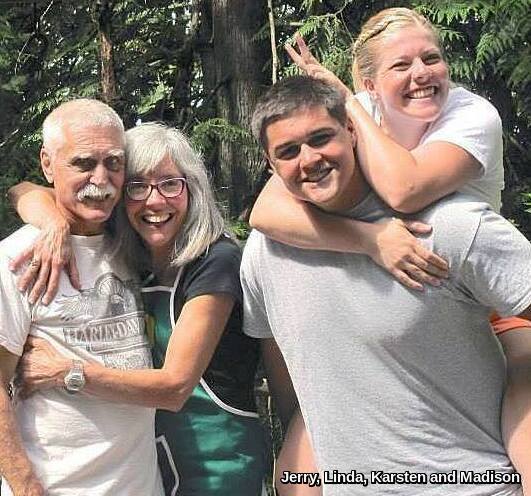 Karsten cannot be defined by what he did in his short life, but by how he rolled and the way he interacted with everything: people, problems, friends, school, sports, work, and family. Karsten was always a social mixer: positive, perceptive, uplifting. He never got down on anyone. His ability to be the glue that helped define and include others was his gift, even when life threw challenges his way. Early in his life's commitment to sports, he was able to move in and out of different activities, from soccer to basketball and eventually to football, which became not just a passion but his life. After graduating from South Eugene High School in 2008, he ignored the wishes of his parents to enroll in a good public college and insisted on Whittier, a private liberal arts college in California. The reason: He could be on the starting line in football. Because the school did not award degrees in football, he settled for a bachelor's degree in Kinesiology. After graduating in 2012, he returned to Eugene so he could get a master's degree from the College of Education at the UO. The reason: Maybe he could get a graduate fellowship and work with the renowned and mighty Ducks football program. After two years of successful schooling and no position with the football team, he graduated and bounced around, first working for EPIC (now Inflexion) for a year and then doing odd jobs while he collected himself. From 2012 through 2017, he was an assistant coach in the South Eugene High School football program. Then, he got the break that he needed: Admission to the UO Master's program in Sports Product Management (SPM) located in Portland. He began in the fall of 2017 and was just completing his internship this summer (2018) with Richardson Sports in Springfield. He loved it there: the people and the direct connection to an industry in sports, but he particularly clicked with his mentor, Sam Baker. His plan was to finish his degree and then market a golf hat that he and his SPM team had designed. As the summer was transitioning to the hot days of August, he began golfing with his buddies, getting ready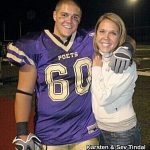 to finish his internship and then his degree so he could be off to his next life somewhere in the sport industry. Instead, after the tragic accident, his next life is Heaven, where he is sure to go.
He and Sevrina were our very best friends but we now must take leave of his wonderful presence and simply lean on memories of him with us. Rest in peace, Karsten. We love you and will always miss you. We will never forget that you made us who we are.
A Celebration of Life will take place on September 9, 2018 at the football field of South Eugene High School. The event will begin at 2 PM and afterwards, we will tailgate with food being catered in KT style.
To keep Karsten in our presence, the family will be working with the Sports Product Management program and the UO to develop a scholarship in his name. In lieu of flowers or other gifts, please make a donation by writing a check to the Karsten Tindal Scholarship Fund and sending it to Oregon Community Credit Union, PO Box 77002, Springfield, OR, 97475 or visit in person and reference account 1226317.A