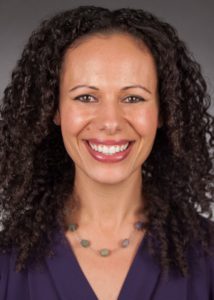 Dr. Rhonda N.T. Nese, who works as a Research Assistant Professor in the Educational and Community Supports research unit within the University of Oregon's College of Education, recently received the good news that her grant proposal Development of an Instructional Alternative to Out-of-School Suspension was selected by the Institute for Education Sciences (IES) for four-years of funding to the tune of just under $1.5 million.
The project extends Nese's earlier work on preventative strategies to improve student outcomes, and in particular her focus on alternatives to exclusionary discipline practices. Nese has previously explored the topic with Fairway Fund grant funding Piloting a Systematic Instructional Alternative to Out-of-School Suspension in a presentation she made at the 2016 annual conference of the Oregon School Psychology Association and in a Symposium presentation at the 2017 Northwest Positive Behavior Interventions and Supports Spring Conference.
The IES funding, however, is an important next step in that it will enable Nese and her colleagues to develop and evaluate an instructional alternative to exclusionary discipline in schools. In the abstract for her grant proposal, Nese explained: "Ample scientific research documents that exclusionary discipline practices are both ineffective for reducing problem behaviors (American Academy of Pediatrics Council on School Health, 2013) and harmful to the long-term social and academic outcomes of students (Noltemeyer et al., 2015). Further, exclusionary discipline practices are especially harmful given their disproportionate use with students of color (McIntosh et al., 2014), students with disabilities (Losen et al., 2015), and those who are struggling academically (U.S. Departments of Education and Justice, 2014). Therefore, the purpose of this project is to develop the ISLA Model [instructional suspension learning alternative] to help students return to class faster and with the needed skills to remain in class while also improving classroom practices and administrator responses to reduce the use of exclusionary discipline."
Nese, who earned her Ph.D. in School Psychology in 2013, has received accolades for her scholarship, receiving an Excellence in Research/Outreach Early Career Award in 2017 and numerous scholarship and fellowship honors spanning two decades.
She has published widely in highly-regarded journals including Journal of Positive Behavior Interventions, Educational Researcher, Behavioral Disorders, Research and Practice for Persons with Severe Disabilities, Children and Youth Services Review, Prevention Science, Assessment for Effective Intervention, and School Psychology Quarterly. One of the articles which she co-wrote with colleagues received the 2017 Article of the Year Award from Behavioral Disorders.
Congratulations, Dr. Nese; we're excited to celebrate this success with you.     Rhonda Nese_Vita