Daniel Anderson Promoted to Research Assistant Professor
June 2018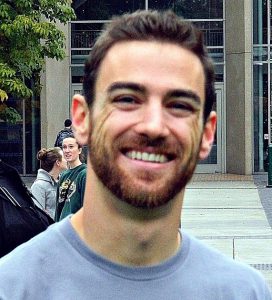 Daniel Anderson, Ph.D., has been a mainstay of the research team at Behavioral Research and Teaching since 2009, when he was hired as a Research Assistant soon after earning his Masters from the University of Oregon's Educational Leadership program. Over the years, he has steadily progressed in both his expertise and his contributions not only to BRT but to the field of educational research more generally, moving from Research Assistant to Research Associate, and most recently, to the rank of Research Associate Professor.
Dr. Anderson was one of the first University of Oregon faculty to embrace the statistical computing language R, which he has used to great success in vertical scaling initiatives for the Florida Center for Research in Science, Technology, Engineering and Mathematics, as well as for the University of Oregon's Early Childhood CARES, and the statewide large-scale alternate assessments for students with significant disabilities in Pennsylvania, Alaska, and Oregon.
In addition, Dr. Anderson was the first to teach R classes at the University of Oregon, helping to mentor graduate students and faculty alike through the steps of adopting this data analytic tool. His efforts in this area were recently recognized when he was appointed to develop and teach the College of Education's first three courses on data science.
Dr. Anderson has had ten articles published in peer-reviewed journals, with four additional submissions currently under review. He has made 27 presentations at National and International research conferences and has published 54 technical reports.
Most recently, Dr. Anderson was honored at the 2018 American Educational Research Association for his outstanding service as a peer reviewer for the journal Educational Researcher.
Congratulations, Dr. Anderson, on your promotion. We look forward to continuing to celebrate your successes for years to come!